The Rajam Report highlights various reviews of the YouTube and Amazon Prime Video apps built for Apple TV. At the core are the complaints that the interface does not feel like a traditional Apple TV app, that they do not feel like they were written for Apple TV.
But why?
Take a look at this chart: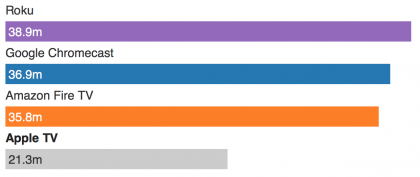 Those numbers are sales estimates. Pavan Rajam asks this question:
If you're Amazon, Hulu, or YouTube, what incentive do you have to invest in a high quality tvOS app when it addresses a mere fraction of your overall TV user base?
Read the whole article. I do think Pavan has his finger on the pulse here.