With the beta release of watchOS 5, a new switch appeared in Apple Watch settings (on the watch itself, Settings > General > Siri). Here's a screenshot: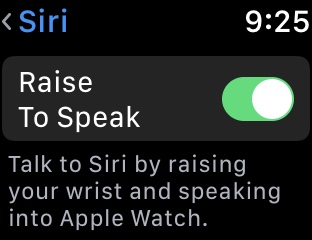 Interestingly, even with the switch on and the latest beta installed, the feature did not work right away. Some behind-the-scenes magic on Apple's end was required but, this morning, my patience was rewarded. I woke up and, suddenly, no more "Hey Siri" was required. I raise my wrist, speak, and Siri responds.
A few thoughts on all this:
First things first, I'm learning there is a difference between tilting my wrist to look at my watch and raising my arm and lifting my elbow to bring my Apple Watch towards my mouth. "Raise to Speak" can tell the difference, which is a good thing.
Volume does matter. If I whisper, no matter how close my watch is to my mouth, Siri will not respond. No need to shout, just a normal speaking voice is required.
Other people won't be triggering Apple Watch Siri. Though anyone's voice can work, proximity matters. I ran a few experiments and found that the only way someone else in the room could trigger Apple Watch Siri is if they got up close to the watch. Shouting from a few feet away did nothing. The proximity detection is a remarkable piece of work.
So far, "Raise to Speak" has worked flawlessly for me. I've tried to break it, I have not yet succeeded. I turned my music way up, had people speaking in the background, Siri understands every word, only kicks in when I lift my arm. They tested this well.
As for "Hey Siri", you can leave that enabled or turn it off, as you like. In my testing, "Hey Siri" has had no impact on "Raise To Speak".
The thing I found most interesting about all this was the way it is being rolled out, with the interface leading and the implementation lagging behind, propagating like a change to a domain name server setting. No issue, just interesting.
Bottom line, my "Raise to Speak" experience was all positive. No down side, all magic.