While HomePod is still available for delivery this Friday, supply for in-store pickup is disappearing.
I logged in to the Apple Store HomePod page to check stock this morning and found this message on every zip code I checked: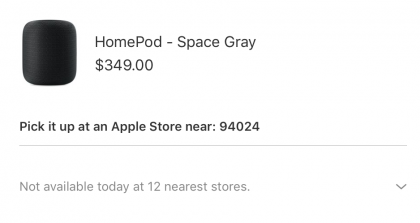 I checked both Space Gray and White. Add to that this post by Benjamin Mayo for 9to5Mac, who notes that shipping estimates have slipped to February 13th in the UK. This is the first sign we've seen of tightening HomePod supply.