Today marks the 100th anniversary of the largest man-made, non-nuclear explosion in history – The Halifax Explosion.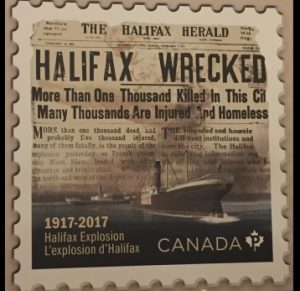 A new stamp commemorating the 100th anniversary of the Halifax Explosion
On the morning of 6 December 1917, two ships, the SS Mont-Blanc, a French cargo ship laden with high explosives, and the Norwegian vessel SS Imo, collided in Halifax harbour, eventually catching fire.
The CBC has a really good interactive video explaining some of the reasons why the disaster happened.
Approximately 2,000 people were killed by blast, debris, fires or collapsed buildings, and an estimated 9,000 others were injured. The sound of the explosion was heard 60 miles away and felt as far away as the city of Boston.
Boston, in particular, offered extraordinary assistance to the city and, in recognition of their generosity, the province of Nova Scotia provides the people of Boston with their official city Christmas tree each year.