Apple on Wednesday released a major update for GarageBand, bringing compatibility with the iPhone X, new instruments, sounds, and a brand-new Sound Library.
Apple told me that one of the most requested features for GarageBand is new sounds and instruments. For musicians, this makes perfect sense—you want to have your song sound different and fresh. New sound and instrument combinations allow you to do that.
The new Sound Library allows users to download Touch Instruments, Apple Loops, Live Loops templates, and instrument presets, all within the app. With everything being downloaded onto an iPhone or iPad, space is sometimes a concern for users, so Apple also allows you to uninstall sound packs that you no longer need from within the Sound Library.
There are currently eight sound packs in the GarageBand Sound Library that range from Guitar Amps to Chinese Traditional. There is no doubt, you'll be able to find some unique sounds in these packs to differentiate your song.
The greatest thing about the Sound Library is that it can be updated independently on the GarageBand app itself. This means that we no longer have to wait until the next update to receive new sounds. If Apple has a new sound pack next week, they can just post it and GarageBand will notify us in the app that new sounds are available.
In addition to the Sound Library, GarageBand also has an all-new Beat Sequencer inspired by classic drum machines. The sequencer has 16 steps, but you can show up to 64 steps if you like.
There are also a number of new instruments from Asia, including Japan's Koto and Taiko Drums. I'm really looking forward to pounding out some beats with those drums. Apple also included a Guzheng from China.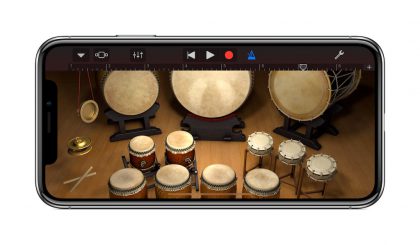 I know a lot of musicians, myself included, that use GarageBand a lot to track song ideas. You can take those ideas and move them to Logic or you can finish your song in GarageBand. This app is really powerful and allows anyone that can tap on a screen to make music.
With hundreds of millions of devices around the world, Apple is truly bringing music creation to the masses with GarageBand.