Apple on Tuesday released a number of new Apple Watch bands to help you accessorize your watch. There are quite a few new options that are broken down into three categories.
The first category is simply called Apple Watch and features Sport in Pebble, Azure and Camellia; Woven Nylon in Berry, Tahoe Blue, Orange, Red, Pollen and Midnight Blue; and Classic Buckle with new buckle design in Sapphire, Berry and Taupe.
The second category is Apple Watch Nike+ and come in Anthracite/Black, Pure Platinum/White, and Volt/Black. New Apple Watch Nike+ models will include 38mm and 42mm Space Grey Aluminum Case with Anthracite/Black Sport Band and 38mm and 42mm Silver Aluminum Case with Pure Platinum/White Sport Band, according to Apple.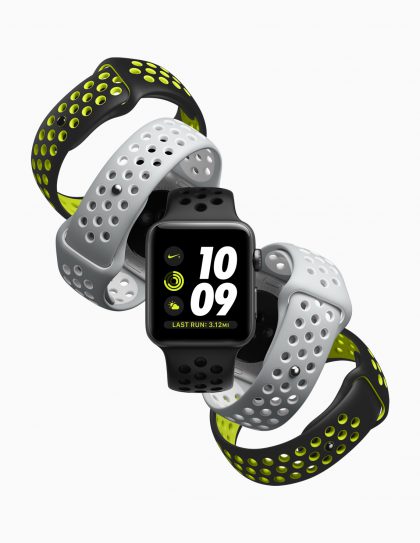 The final category is Apple Watch Hermès. The Hermès bands include a 38mm Double Tour in Bleu Zéphyr Epsom leather; 38mm Double Buckle Cuff in Fauve Barenia leather; 42mm Single Tour in Lime Epsom leather; and a 42mm Single Tour in Colvert Swift leather.