I'm so proud to announce that The Loop Magazine 2.0 went live on the App Store this morning. We've been working on this app for quite a while and I'm confident that there isn't a better magazine experience anywhere else in the world.
To celebrate the release, I'm giving away the latest issue for free. You won't want to miss this one—Matthew Modine talks about what he learned from Stanley Kubrick. Just download The Loop Magazine and read.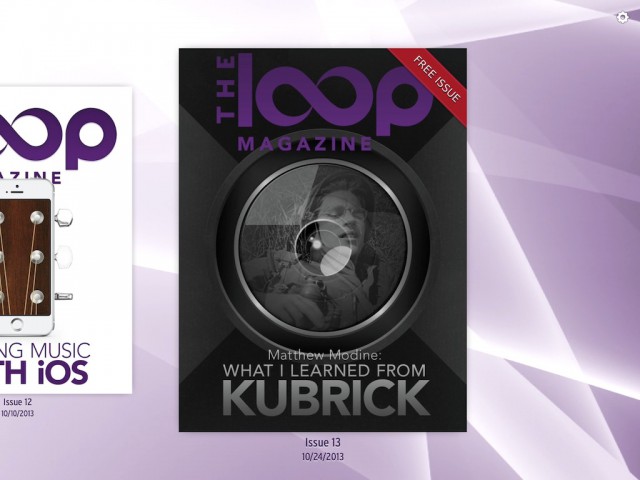 The new version of The Loop Magazine takes advantage of technologies in iOS 7 to give readers the best possible interactive reading experience. It's easy to navigate issues and articles by simply using gestures on your iPhone or iPad.
The Loop Magazine has been built using Glide, a new App building technology that can create and update Apps simply by putting files in a DropBox folder. It's the easiest system I've ever seen to build a magazine.
Here are some of the features:
iOS7 Features:
Motion effects throughout the app
UI Kit's Dynamic Type size throughout the app and on the page
Background Fetch + Background URL session – content always up to date. Content updates are 'deltas' – fetches just the changes!
Share Sheet including AirDrop
iOS7 UI components and minimalistic style
Real-time Blur effects
General Features:
Made for iPad & iPhone
Content-focused mesmerizing interface – showcased issue covers, full screen images.
Video backgrounds bringing the app to life (high performance, using pure AVFoundation)
Always up to date! Visited issues cache automatically for offline reading, including videos!
No time for downloading the whole issue? – all content lazy loads on demand, so you can start reading straight away.
VoiceOver support
Subscribe or purchase individual issues
"Magnetic" Gallery and Video widgets with simplified UI
Streamlined reading experience – read the whole issue using just your thumb
Context sensitive footers and a handy in-app browser
Adjustable text size
Selectable text with iOS dictionary access