Adobe Systems on Thursday unveiled new enhancements to its Creative Cloud offering aimed at designers producing content for the Web. The first public preview of Edge Reflow is available, along with updates to Edge Animate, Dreamweaver and Edge Code.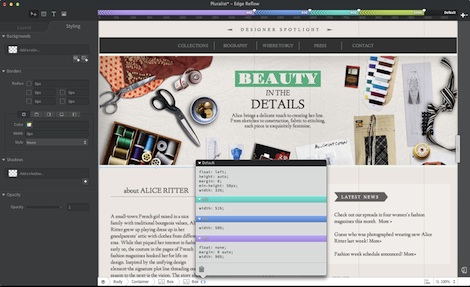 Edge Reflow helps designers create layout and visual designs using Cascading Style Sheets (CSS), seeing instantly how their designs will be impacted when they're presented on different screen sizes. The resulting CSS can be extracted for use with any HTML code editor.
Edge Animate gets new CSS-based features like gradients, filters and enhanced font support, while the Creative Cloud-exclusive update to Dreamweaver adds interoperability with Adobe Edge Tools & Services, as well as some new features like Edge Web Font support. Edge Code adds code hinting for CSS properties and HTML tags/attributes.
The updates and the preview to Edge Reflow are available free for all Creative Cloud members. A subscription for individuals costs at $49.99 per month; special rates for students and users of CS3 or later are also available.