Every once in a while you come across a product that you know is just the best in its class. Honestly, that doesn't happen too often, but the Universal Audio Apollo is the best audio interface I've ever used on my Mac.
I've been using and testing Mac audio interfaces for years — I have small USB units, FireWire 400 and 800 interfaces, FireWire mixing boards, guitar processors, pedalboards and just about anything else you can imagine. They are all in my studio and have all be used at one time or another.
I've recorded entire bands and everything right down to setting up a couple of mics and recording an acoustic guitar and nothing has been able to compare with the sound quality and ease of use I get with the Apollo.
With its combination of hardware and software, the Apollo is probably the closest thing you're going to get to a console without sitting behind a desk and grabbing the controls. It's with this combination where I think the Apollo ultimately beat out the competition.
With many interfaces, there is usually something missing — either the hardware is deficient in some way or the software doesn't measure up to what we've come to expect in today's music world. Whatever it is, I find myself saying, "If only this were better," or something similar. That doesn't happen with the Apollo.
Hardware
Here is a quick list of what the Apollo offers on the 1U rack unit:
Sample rates up to 192 kHz at 24-bit word length
18 x 24 simultaneous input/output channels:

Eight channels of analog-to-digital conversion via mic, line, or high-impedance inputs

14 channels of digital-to-analog conversion via:

Eight mono line outputs
Stereo monitor outputs
Two stereo headphone outputs

10 channels of digital I/O via:

Eight channels ADAT Optical I/O with S/MUX for high sample + rates
Two channels coaxial S/PDIF I/O with sample rate conversion
Two FireWire 800 ports for daisy-chaining other FireWire devices

32-bit and 64-bit device drivers
Bottom line, there are a lot of options available to you.

The Apollo doesn't have a lot of buttons on the front panel, but there are enough to do everything you need. The big preamp knob not only allows you to adjust the gain by turning, it also lets you select the channel by pressing it.
There are six small buttons beside the preamp to change the mic/line of a channel, a low cut filter, phantom power, PAD, phase and link. Of course, lights on the hardware display will show you what's on or off for each channel. You can get up and running without even going into the software.
There is also a Monitor (Volume) button and two headphone volume buttons, as well as the two headphone inputs on the front too.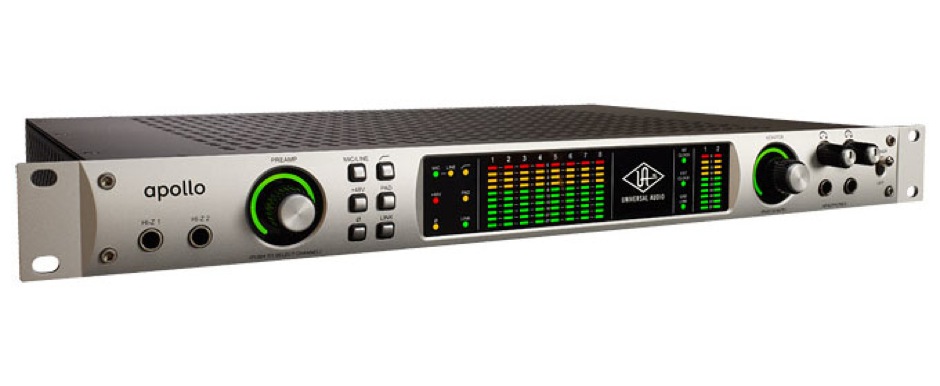 Most of the other inputs and outputs are on the back of the Apollo, with the exception of the two Hi-Z inputs, which are on the front. The Apollo even auto-detects when an instrument is plugged into one of these inputs and automatically changes the input channel for you. I love details like that.
The hardware units comes in a dual or quad configuration, depending on how much DSP power you'll need. I have the Quad version. They range in price from $2,500 to $2,999, but you can find them even cheaper online.
It's also important to note that you can purchase a Thunderbolt option card for the Apollo. The standard option is FireWire, which is also very fast.
Software
The software for the Apollo comes in the form of an app called Console. And that's exactly how it behaves.
Console gives you access to each channel available on the Apollo, adding a bit more control. Of course, you get simple controls like volume and panning, but you also get access to the Aux Sends, Headphone Sends, and all of the buttons that hardware unit has like phase, link etc. Whenever something is changed in software, it is immediately reflected in the Apollo hardware or vice versa.
Console also has four insert slots where you can insert any of the Universal Audio plug-ins you own. Here's the great part — you can insert the plug-ins for monitoring only or record into your DAW with the inserts active.
And you can do all of that with no latency. That's huge.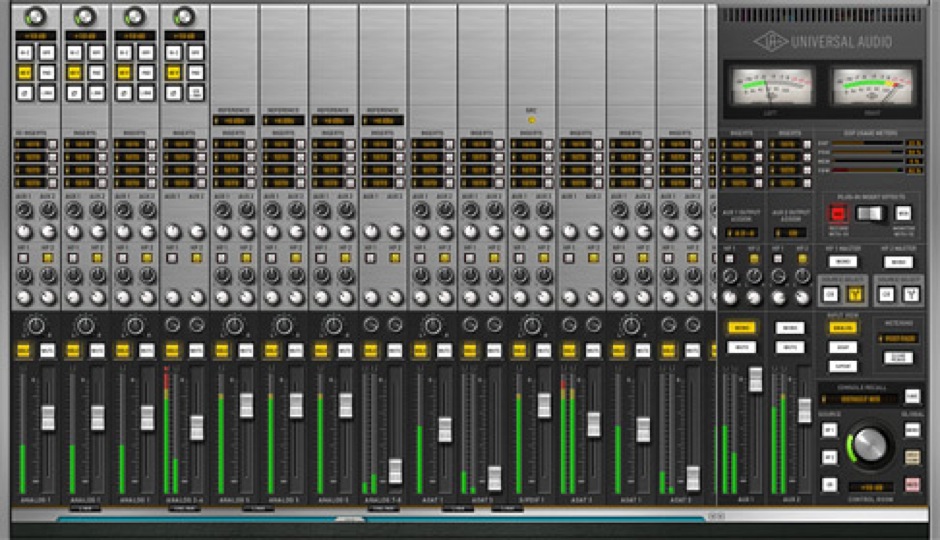 Your DAW has access to every channel available on the Apollo, so that means if you put a reverb on an Aux channel, you can put that into the DAW.
There are other little details that I like in software too. For instance, if you Command-click on the inserts, all of the plug-ins will pop-up like a channel strip. I like mixing like this when I'm finalizing things — a little tweak here and there.
Bottom Line
There is no doubt that the Apollo is the best audio interface on the market. If you care about your music and are tired of the hassles, go buy this now.