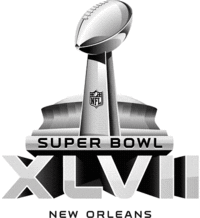 Broadcasting & Cable:
The NFL announced the league, along with broadcast partner CBS, will livestream Super Bowl XLVII on Feb. 3.

The game will be available on both CBSSports.com and NFL.com. Tthe stream will have extra features, including additional camera angles, in-game highlights, live statistics and other interactive elements.

Last year's game was most-streamed single game with over 2 million unique visitors…representing 6.2% of total downstream Internet traffic at 9 p.m. ET for NBCSports.com.
The Super Bowl is one of the few "Event TV" broadcasts left even if many tune in just for the commercials. It will be interesting to see how CBS leverages the internet to enhance the game on your "second screen".