Eagle-eyed gamers noticed recently that Borderlands 2 recently popped up on Steam as a Mac offering, although no Mac version was actually available. Turns out a Mac version is coming soon – November 20, 2012, to be precise, from the folks at Aspyr Media. It'll cost $59.99 and will be available in a physical box, as well as for download (a Mac App Store is coming).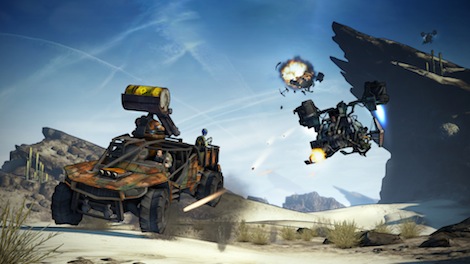 Borderlands 2 is a four-player cooperative shooting action game that features all-new gameplay and all-new environments to explore. Players once again return to the world of Pandora, this time to take down Handsome Jack and the Hyperion Corporation, either alone or with up to three other players working cooperatively online. The game features drop-in-drop-out gameplay.
Borderlands 2 for Mac supports Steam Play, so you can start a game on the Mac and play it on the PC or vice versa. Aspyr is reading the "Captain Scarlett and Her Pirate's Booty" and "Mecromancer Pack" downloadable content for purchase at the time of the title's release, and has promised to support future DLC as it becomes available.
System requirements will call for OS X 10.7.5/10.8.2 or later, Intel Core 2 Duo 2.2GHz or better, 4GB RAM, 13GB hard drive space, ATI Radeon HD 2600 or Nvidia Geforce 8800 or better 3D graphics with at least 256MB VRAM.