Google has taken the wraps off a new Chromebook – a laptop designed to run Google's Chrome OS. Manufactured by Samsung, the new Chromebook is available for pre-order starting today for $249.
The Chromebook features an 11.6-inch display with 1366 x 768 resolution. It weighs about 2.5 pounds and measures about 0.8 inches high when closed, making it a bit thicker and heavier than a MacBook Air.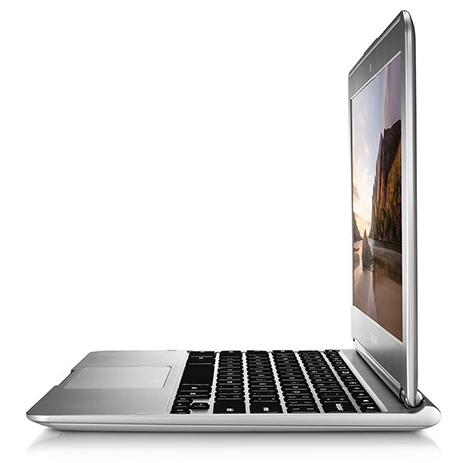 Inside is Samsung's Exynos 5 dual processor, a VGA webcam, 802.11n wi-fi, USB 3.0 and 2.0 ports, HDMI output and Bluetooth 3.0 support. Battery life is estimated at 6.5 hours per charge. The device has solid state storage as well, though it's primarily intended for continuous online use. To that end, Google offers 100GB of Google Drive cloud storage (at least for the first two years – you have to pay after that).
Samsung previously partnered with Google on the Series 5 550 Chromebook, and based on Google's site, that device remains available for $450.
Sundar Pichai, Google senior vice president, Chrome & Apps, posted additional details about the new Chromebook on the Chrome Blog.