I'm always on the lookout for gadgets that make my office prettier, and Twelve South has an almost supernatural knack for doing just that. The latest gadget they've announced is the HiRise, a new accessory aimed at iMac and Apple display users looking to maximize their physical desktop real estate, while raising the display height to a more ergonomic level. The HiRise costs $79.99 and is available direct from the manufacturer.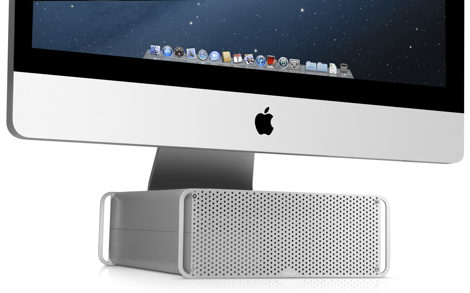 Killing two birds with one stone, the brushed metal HiRise is a pedestal for your iMac or Apple Display with a built-in storage bay that hides cables and other gear. The bay is covered using a magnetically secured faceplate that matches the look of a little baby Mac Pro on its side.
Inside is an adjustable shelf you can use to store a hard drive or anything else you might want to keep within a short distance of your iMac or Apple display. The faceplate can also be screwed into place for a bit of additional security.