Rogue Amoeba announced Monday the release of Fission 2, a major new version of their audio editing software for OS X. It costs $32 and is available for download from Rogue Amoeba's Web site or from the Mac App Store (a demo is available for download too). Upgrades cost $15.
Fission lets you edit and manipulate audio files on your Mac. You can use it to crop and trim audio, paste in and join files, split them and more. It works lossless, so your audio quality remains pristine.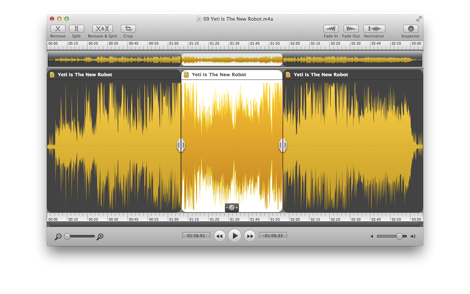 The new release gets a "complete overhaul of its user interface," according to the developer, easier to use for new users and streamlined and enhanced for experienced users. Fission 2 also adds the ability to export audio to a variety of formats including MP3, AAC, Apple Lossless, FLAC, AIFF or WAV. Batch conversion lets you transcode groups of files one after another. You can save and share files directly to SoundCloud with this new release, also.