Pangea Software has announced the release of a new iOS game called "Nanosaur 2: Battle." It's a 3D flying game focused on an old favorite from the Pangea back catalog: a time-traveling pterodactyl, and it's free to download.
Nanosaur 2: Battle lets you challenge up to three other players in multiplayer combat using Game Center's auto-matching functionality to find other opponents to play, around the world. The game sports voice chat functionality so you can talk to your opponents as you try to shoot them down using a variety of different weapons.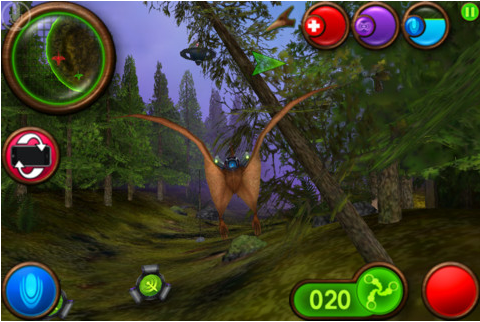 Nanosaur 2: Battle also works with Nanosaur 2: Hatchling, so you can play against players who use that game and are looking for multiplayer challenge. Nanosaur 2 is a pay-to-download game that features a full single-player campaign as well.
The game supports AirPlay, so you can view the game on an HDTV connected using an Apple TV.
Pangea president Brian Greenstone said the success of an earlier free download game, Air Wings, means that he expects "most if not all" of Pangea's games to be free going forward.