A few days ago I asked my Twitter peeps for recommendations for a Railroad Tycoon-type game for iOS. There are quite a few railroad-themed games for iOS, but I was looking for the modern day equivalent of the classic Sid Meier strategy game (first published when dinosaurs roamed the earth by Microprose).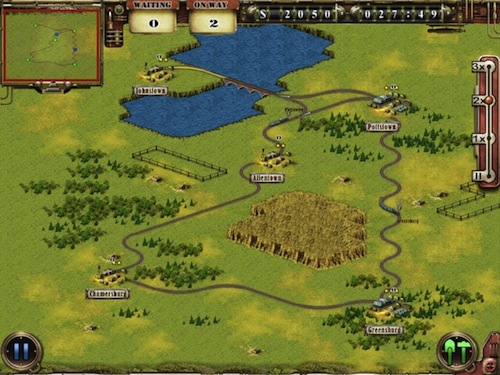 One game floated to the top pretty quickly: Railroad Story from Alawar Games. (It's available as Railroad Story HD for iPad for $1.99, or regular for iPhone/iPod touch for a buck. "Free" versions are also available.) I've seen it advertised on Web sites, and when I looked at the screens, I thought it might have the elements I'm looking for, but on further inspection, I have to say it's come up short. On its own merits, it's a good game, but it wasn't what I had hoped for.
Railroad Story puts you in the role of an enterprising railroad magnate trying to build his empire during the industrial revolution, across the expanding United States. The game features a series of missions in which you connect towns and cities by rail, then manage the traffic on the rails, effecting repairs, and making changes to routes where you need to. You have a specific budget to start with, and an end goal to win each mission (deliver a certain number of railroad cars to a location, make a certain amount of money).
Railroad Story uses an isometric (three-quarters) view and is fun to use to lay out tracks – you can build tunnels through mountains, bridges over bodies of water, and have to work around obstacles. Track layout is pretty straightforward, but you can't lay tracks diagonally (just at 90 degree angles), and you can install switches and stops if you want to adjust the flow of traffic more effectively.
Each town has a station where the trains depart, each carrying mail, freight or passengers, occasionally one will be marked as an express. You collect money depending on the cargo and the quantity. You have a specific time limit for when the train needs to arrive at its destination; if you fail, you lose money.
In addition to track repairs (which cost you income), you'll also have to spend money to clean up accidents (if you occasionally send two trains at each other on the same track, there's no way to reverse one), and every so often one town or another will pop up with a civil disturbance, plague or famine you have to fix by sending "special" trains their way before you can restore the flow of commerce. New towns will appear over time, as well, requiring you to modify your track layouts to accommodate them. Sometimes this can require quite a bit of adjustment because of the limits of track geometry.
Railroad Story comes with 15 missions and three "bonus" missions that you can play sequentially in Campaign mode, then return to later as you want, but that's it – there's no sandbox mode that lets you play indefinitely, and little of the depth I was hoping for. By the second or third mission you've mastered the basic gameplay mechanics; all that's left is timing, smart track layout and hitting your goals. Some of the missions are quite challenging.
Alawar also earns dings for lousy proofreading: there are numerous misspellings and awkward grammatical constructions that mark this as a product from people who don't speak English natively (Alawar is a Russian developer). I also ran into an occasional problem getting the game to recognize input; returning to the home screen and restarting the game invariably fixed it.
In short, Railroad Story is a time management game with fun and challenging moments, but it's not Railroad Tycoon. I'm not dinging it for that, I just want to make it clear to other gamers who were hoping for something similar. But if you're fond of trains and trying to play beat the clock, it will keep you quite busy until you run out of missions to play.