Never mind the Microsoft Surface! The iPad is boring and old! And the MacBook Pro with Retina Display is garbage! The newest hotness in the gadget universe is Nintendo's newly announced 3DS XL, a bigger version of its 3D handheld gaming system! It makes everything obsolete! Nintendo is now the most exciting tech company in the universe!
OK, Microsoft Surface-style new media douchebaggery aside, the 3DS XL goes on sale in the United States on August 19, 2012 for $199.99. Users have their choice of red or blue case colors.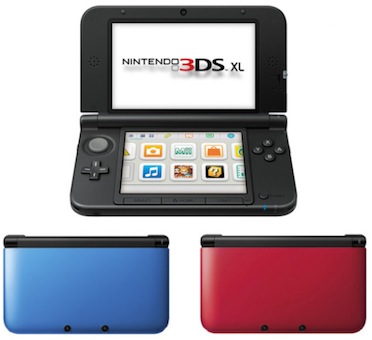 The 3DS XL's screens are quite a bit larger than the 3DS – the stereoscopic upper screen grows from 3.53 to 4.88 inches, while the touchscreen on the bottom half of the game system increases from 3 inches to 4.18 inches. A better battery offers improved runtime between charges, and the system ships with a 4GB SD card for saved games, photos, and whatever else you desire to store.
Like its smaller cousin, the 3DS XL enables players to play games in 3D without requiring them to use goggles – the upper screen is stereoscopic. It also plays regular DS games that only work in 2D.
This isn't the first time Nintendo has done an "XL" version of their handheld gaming system. Nintendo offered the same treatment to the 3DS's predecessor, the DS.