Samantha Grossman for Time.com:
The Swedish company hasn't begun renting out its showrooms just yet, but it has partnered with Oregon architectural firm Ideabox to launch a line of prefabricated homes. Dubbed "aktiv," the one-bedroom homes will be decked out entirely in hip IKEA decor. Expected to sell at $86,500, the homes are "Swedish inspired" and "full of personality," according to the Ideabox website.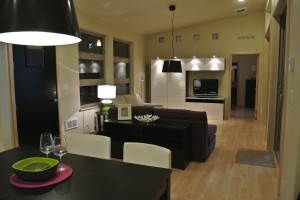 They look cozy and contemporary. At 745 square feet and with one bedroom, these are mighty small houses – enough for one or two people maximum. But if you have a small lot and you're looking to build a snug bungalow, you could do a lot worse. Hopefully the houses themselves last a bit longer than the average piece of Ikea furniture.