Mac software developer Rogue Amoeba has announced the release of Piezo, a new audio app for the Mac. It's available for free download from the Rogue Amoeba Web site and can be purchased either from there or from the Mac App Store for $10.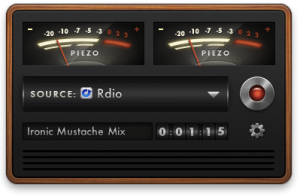 Piezo is a lightweight, simple-to-use audio application that can record sound from any Mac app or from an audio input source, such as a connected microphone. It sports a retro-style interface with a pair of input level needles and a red record button.
Rogue Amoeba founder Paul Kafasis noted that this app marks the company's debut in the Mac App Store. Apple places restrictions on the operation of apps that has heretofore prevented Rogue Amoeba's other apps like Audio Hijack Pro from being released through the Mac App Store, but Piezo was engineered to comply with Apple's guidelines.
System requirements call for Mac OS X 10.6 or later.