It sounds – and looks – like a joke, but audio equipment maker Behringer is serious about its iNuke Boom, a 10,000 watt speaker system for iPhone, iPod touch and iPad.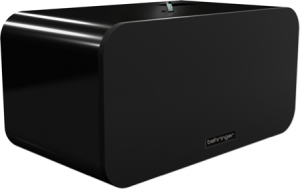 Yes, that tiny little dot on the top of the speaker dock in the image above is an iPhone or iPod touch, just to give you a sense of scale.
The speaker system measures eight feet wide and four feet tall and weighs over 700 pounds, pumping out 10,000 watts. Behringer plans to unveil the new iPod dock at CES 2012, and it'll carry a $30,000 price tag. We shudder to think at what shipping will cost on top of that.
Just the thing to really feel the wobble bass in that dubstep playlist on your iPod touch.