Harman Kardon on Tuesday introduced the MS 150, a new stereo equipped with a dock suitable for iPhone or iOS, slot-loading CD player and FM radio tuner. It costs a staggering $689.95, putting it in the high end of iOS-compatible stereo gear.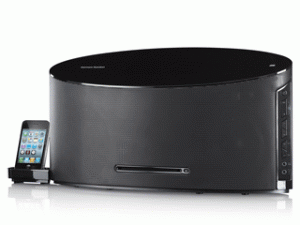 The MS 150 incorporates two 30-watt bass-reflex loudspeakers and has three auxiliary audio inputs and 3.5mm headphone jacks in both the front and the back. A front-panel audio input is included, and the FM radio supports RDS, a technology that enables you to display text with artist and song information, from radio stations that broadcast the data.
The MS 150 also includes subwoofer output, so you can connect a powered subwoofer for added oomph. Also included are composite and S-Video outputs, so you can connect the MS 150 to a video source to output photos and videos from compatible iOS devices. An infrared remote control is included, and the MS 150 has a built in alarm, sleep timer and dimmer.
Harman Kardon claims the MS 150 has been developed to adhere to European energy standards, consuming less than one watt of power in standby mode.