Scosche has introduced the RDTX pro, a radiation detector that works in conjunction with an app on your iPhone or iPod touch. It retails for $329.99.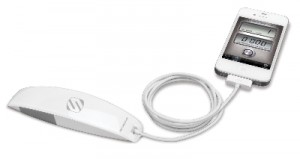 The device requires no calibration, and allows you to detect gamma radiation about 60keV within plus or minus five percent accuracy. The sensor connects to the iPhone or iPod touch using a 30-pin dock connector cable and works with a free "radTEST" app you can download from the App Store. It can also operate standalone on a single AA battery for about 96 hours.
The app shows a "user friendly" needle gauge with green, yellow and red meter levels, and can also display digital readings to show exact radiation levels. Users can then share their results on Facebook, Twitter and Google Maps.
Perhaps it's no surprise in light of Japan's Tohoku earthquake and tsunami and its effect on the Fukushima nuclear reactor facility, but Scosche is focusing much of its attention with this device on the Japanese market. The company is donating $10 from every sale to charities associated with aid for that region.
The RDTX pro goes on sale in Japan in September.