2K Games on Thursday released Sid Meier's Pirates for the iPad. It's priced at $3.99 and is available for download from the App Store.
[ad#Google Adsense 300×250 in story]Sid Meier's Pirates is an adaptation of a PC game that came out in 2004, an homage to a much earlier game originally developed for Commodore 64 in 1987. The game puts you in the role of an enterprising young pirate captain as you collect treasure maps, go on missions and rescues, and fight other pirates on the high seas.
The game combines minigames like sword fighting, dancing and ship combat with an engrossing and fun in-depth story that intertwines your fate with that of some of the most notorious pirates in history, like Blackbeard, Captain Kidd and Henry Morgan.
Sid Meier's Pirates has been reworked to run on the iPad's touch controls, and even features some iPad 2-specific features, if you're running it on a new model – features like the ability to use your camera to take a picture, improved graphics and better special effects.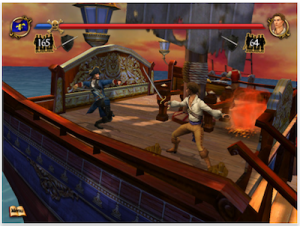 Sid Meier's Pirates requires an iPad running iOS 4.2 or later.
That $3.99 is a special price through the weekend – next week it'll go up to $6.99, so don't dawdle.