Apple on Monday announced that it sold more than 300,000 iPads in the United States, as of midnight on Saturday, April 3, 2010. That number includes deliveries of pre-ordered iPads, deliveries to channel partners and sales at Apple retail stores.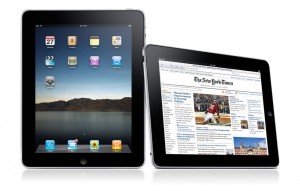 Apple also announced that iPad users downloaded more than a million apps from the App Store and more than a quarter of a million ebooks from the new iBookstore during the first day.
"It feels great to have the iPad launched into the world — it's going to be a game changer. iPad users, on average, downloaded more than three apps and close to one book within hours of unpacking their new iPad," said Apple CEO Steve Jobs.
The numbers certainly put to rest speculation by analysts like Piper Jaffray's Gene Munster, who guess that Apple sold more than a half a million units the first day.