Oceanhouse Media has launched three new iPhone and iPod touch apps based on beloved children's books by Dr. Seuss. "The Cat in the Hat," "Dr. Seuss's ABC" and "Dr. Seuss Camera – The Cat in the Hat Edition." They are priced at $3.99, $3.99 and $2.99 respectively.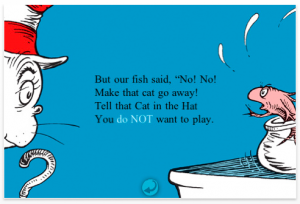 Building on the work Oceanhouse did with its previous release, an iPhone-optimized e-book of "How the Grinch Stole Christmas," the books combine the artwork of the original books with features developed to help promote reading in young children, like highlighted picture and word associations, professional narrations and custom background audio.
Dr. Seuss Camera – The Cat in the Hat Edition lets users make photo cards using the iPhone's built-in camera or using images stored in the Photo Library. You can pose with characters or become the Cat in the Hat, Thing 1 or Thing 2, or Sally or her brother. The app lets you personalize cards with stamps, borders and Seussian text, then you can e-mail the results or save them to the Photo Library.
Apple plans to release the iPad in late March, and Oceanhouse Media president Michel Kripalani says his company is poised to bring most of its library forward to the device, starting with the Dr. Seuss books.
"We feel that it will be an excellent platform for literature and children's education in general," Kripalani told The Loop. "We are very bullish on the outlook of interactive book titles on the iPad."