Id Software's seminal first person shooter Doom Classic is back for one more go, this time on the iPhone and iPod touch. It costs $6.99 and is available for purchase and download from the App Store.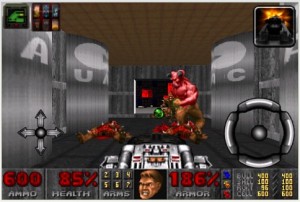 Doom first debuted on the PC back in 1993, and created fortunes for the founders of Id Software, the game's developers. It also spawned multitudes of sequels, spin-offs and pretenders. The game puts you in the role of a Space Marine defending a human outpost on Mars from an onslaught of demonic creatures that invade through a dimensional rift.
The iPhone and iPod touch game includes the PC game's original three episodes along with Epsiode Four: Thy Flesh Consumed. The game sports 36 levels. Three different control schemes have been incorporated, and the game features multiplayer support for up to four players in Deathmatch and cooperative modes. You can listen to your own soundtrack or play the game's music while playing.
System requirements call for iPhone or iPod touch running iPhone OS 2.0 or later.