Apple on Monday announced yet another milestone for its App Store — 2 billion downloads.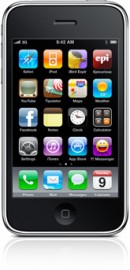 It was 76 days ago, on July 14, that Apple announced it had 1.5 billion downloads and 65,000 apps available for download. Since then, it sold over 6.5 million apps a day to reach the 2 billion mark.
Apple said it now has over 85,000 apps available, an increase of 20,000 in the 76 days since the last set of numbers the company released. That means that Apple is approving somewhere in the vicinity of 263 apps a day for iPhone and iPod touch users.
These are clearly impressive numbers for Apple and obviously for the customers that want a variety of apps to download on their devices. It must be a little heartbreaking for Nokia, Palm and RIM as they try to compete with Apple for the hearts, minds and dollars of customers.
Apple said it had 50 million iPhone and iPod touch customers worldwide and over 125,000 developers in Apple's iPhone Developer Program.