Travelers now have a new tool to help them organize and keep up-to-date with changes on their trip — Nodconcept's Travel Assistant Pro 3.0.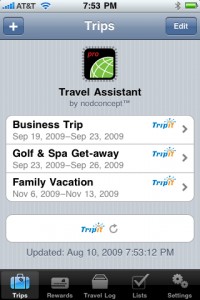 The new version of Travel Assistant Pro adds several new features, the most interesting being the integration of TripIt Pro. TripIt is an itinerary monitoring and alert service that many frequent travelers use to get the latest information on flights and changes to their itinerary.
With Travel Assistant Pro 3.0, the app will sync with your TripIt account, so you only have to go to one place to view all of your travel information. Taking advantage of the iPhone's accelerometer, users can update itinerary in Travel Assistant by simply shaking the device.
Travel Assistant Pro 3.0 also adds other new features like the ability to share itineraries with other people via in-app email; add current location to Travel Log entries using location services and integrated map technology; shake the device to clear checked items in the app's Lists tab; double-tap list items to disable/re-enable the item; and use data detectors to automatically turn phone numbers and URLs into tappable links in itinerary notes fields and Travel Log items.
Travel Assistant Pro 3.0 is a free update for existing users. For new users the app costs $9.99 and is available from the App Store.